ENGINEERING AND DESIGN SERVICES
Advantage Electronics offers comprehensive engineering design services for electronic and electrical products. Our engineers excel in the design of embedded systems, including embedded software design and programming.
Advantage Electronics focuses on solving problems quickly and at costs that ensure our customers are provided with a timely product delivery at the lowest cost.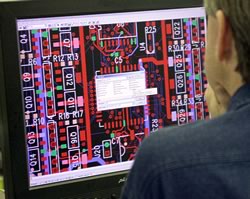 ---
Engineering Services include: • Embedded systems design
• Motion control design
• Test engineering and software design
• Component engineering and substitution support
• Electro-mechanical and mechanical drafing and design
• Design for manufcturability and design for testability
---
CAD Tools: • Microchip&reg
• AutoCAD 2004
• Intellius V5.0
• Mentor Graphics PADS-PCB
• DX-Designer
• CAM 350
• CCS Info Microchip C
• Phyton Incircuit Emulator
• Metroworks C
---
Processor Families: • INTEL MLS-96
• Microchip PIC
• Motorola HCO5
• Motorola HC12